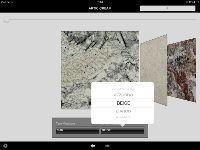 Marmi Bruno Zanet with this App continues its path of technological development that sees the company's management information system no longer interpreted only as an internal resource, but also as a source of useful data to the external user. A step of this process has already been represented by the online catalog and by the online warehouse updated in real time and synchronized with the company management information system Easyco.
The Zanet App represents therefore another fundamental element of this process of technological change started several years ago by the company and today it is also conquering the world of mobile devices. By selecting automatically the navigation language (Italian or English) in accordance with your iPad's settings, you can consult the catalog of stone materials (marble, granite, etc.). With a simple tap you can view a full screen image of the selected material accompanied by a photo of a possible setting which represents a real use of the material and a brief data sheet.
From the catalog the real-time availability of a single material is immediately visible, which appears in the form of touchable buttons, regardless being blocks or slabs. By clicking on a single button you can consult the detailed information on the actual size and quantity available and see the actual photo of the material that you want to buy.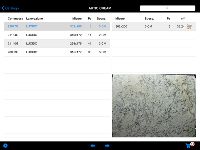 The Zanet App will interface directly with the management information system Easyco and the Commercial Area of Marmi Bruno Zanet, facilitating the user in the consultation of the availability as well as in choosing the best material. In a few taps you are allowed to load more materials in the cart and request a quotation.
The process follows a predetermined path that will handle the request immediately ensuring a rapid response to the user, reducing waiting times and increasing the quality of customer care.

The Zanet App is now available free to all users directly from the Apple Store.
ZanetApp is now available on the App Store