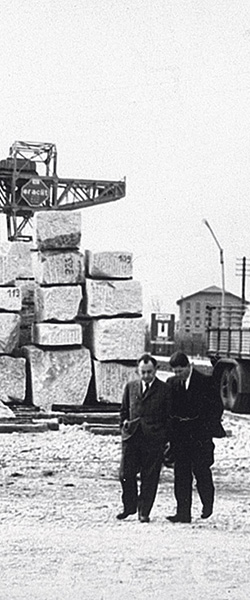 The Bruno Zanet story starts with a search for unknown lands, rich in resources, and with the spirit for conquering them.

The company has always striven to search for new materials and new deposits. These, over the years, have been able to dictate the customs and fashions of natural stone. Bruno Zanet has always been unique for his intense market orientation and attention to new requirements and new opportunities. He has constantly and continuously enlarged his horizons. Thanks to its high quality materials, Marmi Bruno Zanet has helped achieve important architectural works throughout the world and, in particular, in Spain, France, Germany, Austria, the United States, Canada, China, Taiwan, Singapore, Hong Kong, Japan, Malaysia and Indonesia.
THE ADVENTURE BEGINS
Marmi Bruno Zanet has been in the natural stone world constantly since 1958. Bruno Zanet, his family and a team of highly skilled workers contribute, day after day, hard work, passion and dedication to achieve and strengthen their business project.
BIRTH OF THE COMPANY IN VOLARGNE
In 1972 Bruno Zanet set up his first large storage yard in Volargne, precursor of the two other important logistics centers in the area of Massa Carrara, inaugurated towards the end of the nineteen seventies.
In the meanwhile searching continues, penetrating Spain, Greece, Portugal and going all the way to Argentina. These areas have a wealth of resources. Their quarrying centers are equipped with leading-edge machinery and equipment that provide the maximum productivity and optimum profitability.
THE VITORIA DOCK - NEW ROADS ARE OPENED
Brazil, a land with a wealth of resources, inaugurates the Vitoria Dock, giving concrete form to another fundamental stage in the company's globalization process.
A genial intuition that continues, today, to be the main hub for exporting marble and granite. In addition to the new and modern block processing unit with leading-edge production equipment for cutting and manufacturing slabs, it includes a new covered slab storage yard that can handle, with the utmost speed, even huge quantities of material.